News

We are closed from 20.12.2019 till 06.01.2020 MERRY CHRISTMAS AND HAPPY NEW 2020 YEAR FROM ALL ALLSILVER CREW. more »
Latest products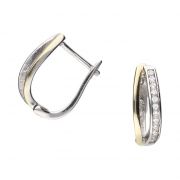 KOLCZYKI
EARRINGS ON ENGLISH HOOK, COMBINATION OF GOLD 925 SILVER WITH Rhodium-plated, WHITE Zircons.… more ›
New collection
KOMPLET
SET OF EARRINGS ON STICK PLUS PENDANT, SILVER 925 RHODIUM, WHITE Zircons, CHRISTMAS, STARS. … more ›
"All Silver" - wholesaler of high quality jewelry
We mainly import high-quality silver jewelry and semi-finished products. We pride ourselves on having our own production facilities. The jewelry is made of 925 sterling silver. Our customers can design jewellery or choose from thousand of designs from different collections. We have a range of products of various designs: rings, earrings, necklaces, bracelets and many others, as well as ceramic jewelry (of which we are one of the major importers in Poland) for women, men and children. This allows us to satisfy the tastes of even the most discerning Customers. We know that the jewelry market is changing very rapidly. Its growth rate is mainly based on changes in fashion. We always follow the changing trends carefully, taking part in Polish and international jewelry trade fairs. This allows us to keep updating our offerings by expanding our collection with new models. The strength of All Silver is based on the family collaboration. We cooperate closely only with reliable companies and we offer very diverse offer. The prices we offer are manufacturer/importer exclusive prizes, and may be attractive and competitive. Our Customers also receive a system of discounts and various promotions.
At All Silver, you will quickly make purchases at a competitive price.
All Silver deals with wholesale only.